Tohoku Earthquake and Power Plant Accident
Thank you very much for all of your sincere condolences and sympathy regarding the earthquake and tsunami hit Tohoku area of Japan on March 11.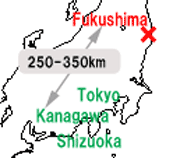 We understand that the accident at the Fukushima Nuclear Power Plant of the Tokyo Electric Power Company (TEPCO) has caused anxiety to many people, as some news on TV are exaggerated and focused on only the worst information of the accident.

However, all of our products are manufactured and stored in Tokyo, Kanagawa or Shizuoka, which are located 250 - 350km (155-217 miles) from the stricken power plant, the levels of radiation here is very small, with published figures remaining within the parameters of normal levels recorded in the past. Meanwhile, TEPCO has published a schedule regarding the stabilization of the Fukushima Nuclear Power Plant accident, with a view to bringing the problem under control.

Based on this current information, we are confident that all of our products handled in our store are NOT affected by the radiation from the accident and remains safe.  
Please feel free to contact us for wholesale pricing.

Finest Karate Uniform (Karategi, wear, clothes) Supplier / Wholesaler from Japan